Viruses don't stand a chance at Kwekerij Voorhof with the Ecoster water disinfector
René Kalter: "Even clean water should always be disinfected, as a precaution."
Kwekerij Voorhof in IJsselmuiden, the Netherlands recently doubled its cucumber cultivation area to 7.8 hectares. The Ecoster water disinfector that was present was not designed for that. A new one was obtained with a capacity of 40 m3 of water per hour. It disinfects all types of water going to the greenhouse at any point in time. "We want to minimize the risk of viral contamination," explains manager René Kalter. "Basin and spring water are now disinfected, too."
The old Ecoster did its job well, but with a capacity of 6-7 m3 per hour, it was only designed for drain water disinfection for a cultivation area of 4 hectares. "Just enough for the old situation, but that's about it," says manager René Kalter who is also responsible for the technical installations at the company. Apart from the doubling of the drain water volume that the company expansion was going to cause, there was another reason to scale up in decontamination capacity. A very important one: prevention of viruses.
Cucumber green mottle mosaic virus
Cucumber growers around the world are wary of viruses that can affect their crops and cause significant losses in yield. Cucumber green mottle mosaic virus (CGMMV) is the biggest threat. Despite the strict hygiene code and disinfection measures that were strictly enforced, the company was faced with it unexpectedly in 2016. "Initially, it was a small, localized contamination, possibly the result of minor carelessness during harvesting or crop care," the manager recalls. "We were able to contain the contamination well and we thought that was the end of it. But in 2017, this virus was everywhere in the company. So something else was going on. The only logical explanation was that the virus was spread through the water system."
UV disinfection not enough
Until then, all drain water was passed through a UV disinfection system. On the surface, that's an excellent technique, as long as the lamps stay clean and the drain water stays transparent. When dirt particles adhere to the lamps or the water becomes cloudy due to organic contamination or a high iron content – which is often the case when using spring water – it can decrease the effectiveness of UV disinfection. To leave nothing to chance, the management decided to install a small Ecoster drainwater disinfector in addition to this installation. A second-hand unit was found for this purpose via the manufacturer Van Dijk Heating. It heats the water that passes through it to 85°C for three minutes. That's enough to kill 99.9% (probably more) of the viruses, bacteria, and fungi present. After thoroughly cleaning and disinfecting the company, including its entire water system, a new start was made with this dual disinfection technique. Since then, it has been virus-free.
Risk mitigation
At the partly new, expanded company, the management wanted to minimize the risk of spreading viruses via the water system on all fronts. It was decided to disinfect all the water that goes to the greenhouse before use from now on. In addition to drain water, this involves rainwater from the basin (the main part), spring water and condensation water. Since watering entails considerable volumes, the water is actively cooled back down after treatment with a heat exchanger. The installation of the Ecoster, pH control and heat exchanger was provided by Installatie Techniek IJsselmuiden B.V.
Using water efficiently
The new greenhouse provided a good opportunity to optimize water use in a broad sense. Kalter: "Climate change means that horticultural companies are more often confronted with downpours that they can hardly cope with, and with long periods of hardly any rainfall. We have therefore more than doubled the storage capacity of the basin to 7,500 m3. The new greenhouse was also fitted with wider drainage pipes and larger collection containers, so the drainage system is less likely to be overloaded during a downpour and we can use rainwater longer. That is and remains the ideal water source. "Sustainable water management is simply a necessity these days."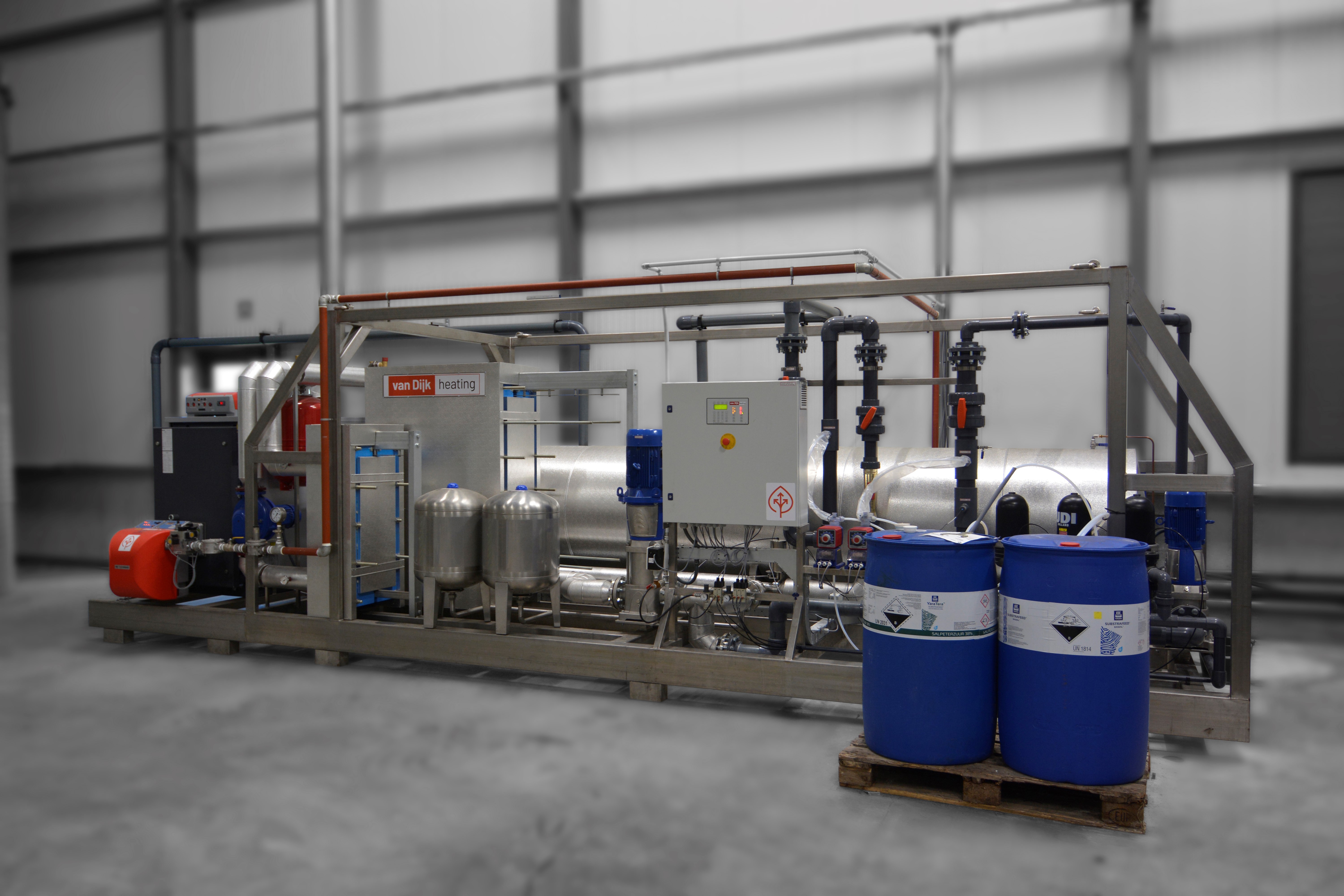 The new Ecoster can completely disinfect 40 m3 of water per hour without any problem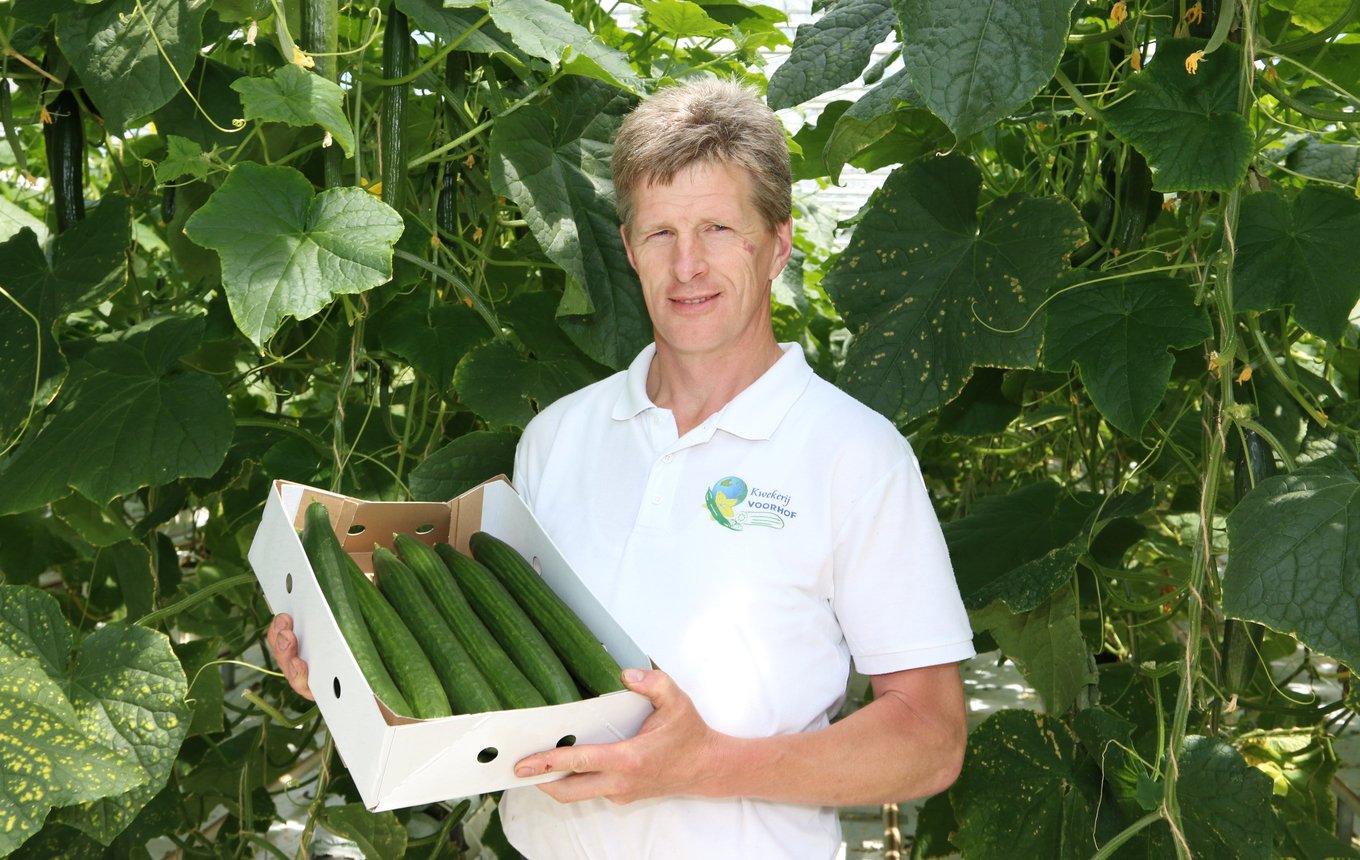 René Kalter: "Sustainable water management is simply a necessity these days"