Van Dijk heating builds an entirely stainless steel condenser for Canadian cultivation company
Jan Voshol: "Not much is resistant to sour gas"
Twin Creeks Greenhouse Inc (Canada) has been producing bell peppers for the North American market since 2016. The 40 acres of greenhouses are heated with gas boilers that run on a mixture of 75% natural gas and 25% biogas from a nearby waste treatment site. This contains sulfur, which necessitated an adapted flue gas condenser. At the request of the installer, Voshol Warmte-Elektrotechniek, Van Dijk heating built a unique flue gas condenser with stainless steel cooling fins.
Voshol Warmte-Elektrotechniek (Waddinxveen, the Netherlands) is an international consultancy, design and installation company, specializing in climate control. Greenhouse horticulture is an important market segment. Seeing the growth prospects for North America, they established a Canadian branch, JV Energy Solutions, in 2010. It operates out of Kingsville in the south of the province of Ontario.
Two phases
Founder and CEO Jan Voshol was approached in 2015 by greenhouse construction company Havecon Horticultural Projects, which was able to set up a brand new bell pepper nursery for the Cornelissen family in Watford, Ontario. Initially, it encompassed 4 hectares (10 acres) of greenhouses and a modern business space, with JV Energy Solutions taking care of the technical installations. The realization of the project went smoothly, and by late 2016, Twin Creeks Greenhouse was completed. In 2019, it was expanded to more than 16 hectares (40 acres).
Sustainable heating
What's unique about the company is that the heat is partly generated using methane gas that comes from a local waste processing site (landfill). The organic waste stream is fermented there. The gases that are released (methane and CO2) are captured. After separation, the methane is stored and passes through a specially constructed gas pipeline to Twin Creeks Greenhouse.
In essence, the greenhouses are heated using biogas obtained locally. You can't get much more sustainable than that.
Sulfur and sulfuric acid
"That's true, but a limitation of landfill gas is that in addition to methane, it also contains some sulfur," says Voshol. "When you feed flue gases containing sulfur through a condenser after the combustion process to use the residual heat present, which is common in greenhouse horticulture, some sulfuric acid is inevitably also formed during the condensation process. That's very aggressive stuff. Normal flue gas condensers can't handle that very well."
Initially, 100% biogas was used. It soon became clear that the standard condenser was greatly damaged by this. The aluminum cooling fins in the interior were slowly but steadily eaten away by the corrosive acid that was constantly being released.
Mixing in natural gas
The installer: "In order to slow down the process and extend the life span of the condenser, the client then started mixing in natural gas. The share of biogas was reduced 25%. That gave us time to come up with a suitable solution. Van Dijk Heating seemed to us to be the best partner for this. They make condensers that are very reliable and have a long lifespan; some have been in operation for 30 years. Nevertheless, their standard products would also corrode quickly because a condenser consists almost entirely of untreated metal. Customization was needed, and Van Dijk heating is good at that..."
Stainless steel cooling fins
The proposal that the technicians from Bunnik offered was a flue gas condenser made entirely of stainless steel. "As far as I know, flue gas condensers with stainless steel cooling fins had never been used in greenhouse horticulture before," says Voshol. "It is logically a lot more expensive, but Mike Cornelissen didn't shy away from it. He would like to continue using the landfill gas because it is economical and sustainable. And the condenser generates so much residual heat that it can still pay for itself in a few years. Winters in Ontario are much colder than in Western Europe, which means that flue gas condensers are used intensively."
Not invulnerable
A nice bit of customization by Van Dijk heating. What does the installer expect the lifespan to be? Is 25 or 30 years within reach under these challenging circumstances?
"No, forget that," the experienced installer says, laughing. "Although stainless steel is less likely to be affected than aluminum, it's not invulnerable. You mustn't underestimate sulfuric acid. We assume the stainless steel condenser will need to be replaced after five years. That's a long enough period to recoup the investment. It has been in use for two years now and we don't see any rust formation yet. We'll keep an eye on it, of course; when our technicians come in for periodic maintenance, they'll also inspect the condenser."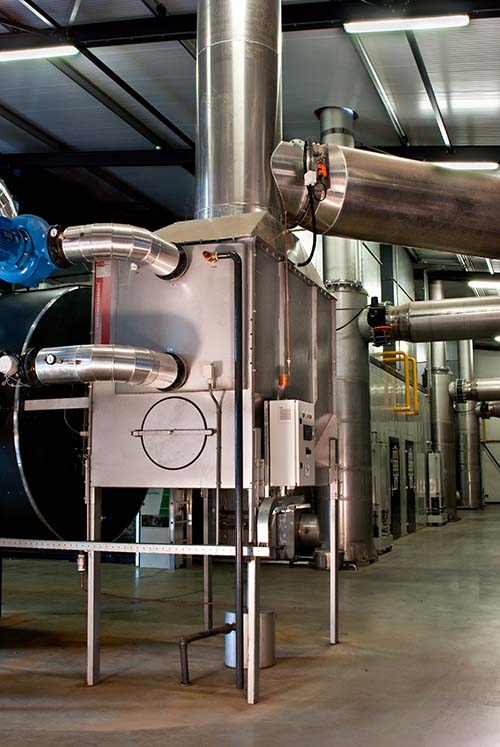 Van Dijk heating built a new stainless steel flue gas condenser for Twin Creeks Greenhouse with stainless steel cooling fins. These are much more resistant to sulfuric acid than aluminum fins.