Installation partner Verkade Climate appreciates committed suppliers with know-how
"For many growers, Van Dijk is a household name"
At Van Dijk Heating, we have been designing and manufacturing high-quality systems and components for energy and climate technology in greenhouse horticulture for nearly 50 years. Growers and installers place great value on equipment that is designed specifically for its task and delivers on its promises. Verkade Climate enjoys working with VHD for other reasons too, say sales engineers Henk Schonewille and Michel Kauderer.
Verkade Climate, based in Wateringen (NL), is an experienced installation company and service provider in the energy and climate technology sector. Over 70 employees serve customers in the international greenhouse and utility construction industries. The enormous variety of needs and solutions requires a high level of expertise, the ability to listen and the ambition to implement the very best solutions in close collaboration with customers and suppliers, both from a technical and a commercial point of view.
Close-knit relationship
The two companies have had a close-knit relationship for decades. "For many growers and installation companies, Van Dijk is a household name," Henk Schonewille explains. "They were the first to start selling retarders and flue gas condensers for gas boilers, enabling horticultural businesses to reduce their energy costs and use CO2 from flue gases for their crops. Most of the condensers and CO2 units in use in the Netherlands – and many in other countries besides – come from Bunnik." "For some growers, you don't have to present them with other options," Michel Kauderer adds. "They ask for 'a Van Dijk' up front, because it is equipment you can rely on for many years."
Creative thinking
Verkade Climate likes to work with suppliers who are committed to quality, particularly when complex issues are involved. "In those situations you want to have someone by your side who can put themselves in your customer's shoes, think creatively and offer complete transparency," Schonewille explains. "It gets you to your end goal much faster: giving the customer peace of mind. We recognize these qualities in Van Dijk Heating. You get to speak to the right person quickly, they are alert and they give you clear information. That's what we like to see."
Case study: Skavland Gartneri (Norway), AVS-wtw
The two salesmen illustrate their story with two examples from their customer portfolio. Schonewille assisted a Norwegian customer who was looking to build a new, energy-efficient 1.6 ha greenhouse. "Lower energy costs and good humidity control with active ventilation were the starting point for Skavland Gartneri," he says. The company cultivates various types of tomatoes and young vegetable plants following the principles of Next Generation Growing and has been a customer of Verkade's since 2011. "We worked out several options, and AVS with heat recovery came out on top. They already had a CO2 unit from VDH, so they had every confidence in them." The greenhouse has two sections. They installed two AVS-wtw units on each 8 m lattice beam in the first section, as per the recommendation, and they decided to opt for half the capacity in the second. Schonewille: "Grower Håvard Skavland is very open to innovation. He realized that one unit on each beam would probably not be enough and that they would have to work hard. He wants to experience the differences between the two sections. So far, he is very pleased with the results. We will be doing another more extensive assessment in the spring. I'm looking forward to finding out how he gets through the winter and what differences he experiences."
At Skavland Gartneri on the Norwegian island of Talgje, 23 AVS-wtw units provide a perfect climate at low energy costs.
Case study: Van Onselen Paprika (Netherlands), CO2 unit
Sweet pepper nursery Aat & Els van Onselen in 's-Gravenzande expanded by 2.3 hectares last year. Preparations for the expansion began in 2019. "They were expanding across the street from their existing site and wanted a greenhouse and a CHP that would accommodate future growth," Michel Kauderer explains. "Our task was to connect the heating and CO2 systems on the new site with the original ones across the road. So we laid interconnecting pipes and installed a 15-kW ventilation unit at the new site." Besides the two boiler houses and CHPs with flue gas cleaning, the company is also connected to the OCAP CO2 network. "Being able to switch flexibly between the different CO2 sources was a very specific request," he continues. "To achieve this, they needed to be able to draw in air from outside. So we opted for a three-way fan rather than a two-way one. That gives Aat the long-term flexibility he needs. The capacity is big enough to allow the business to expand again in the future. The system currently runs mainly at half capacity via a frequency inverter. If another greenhouse is added in a few years' time, the unit will be able to deliver a higher output without any adjustments."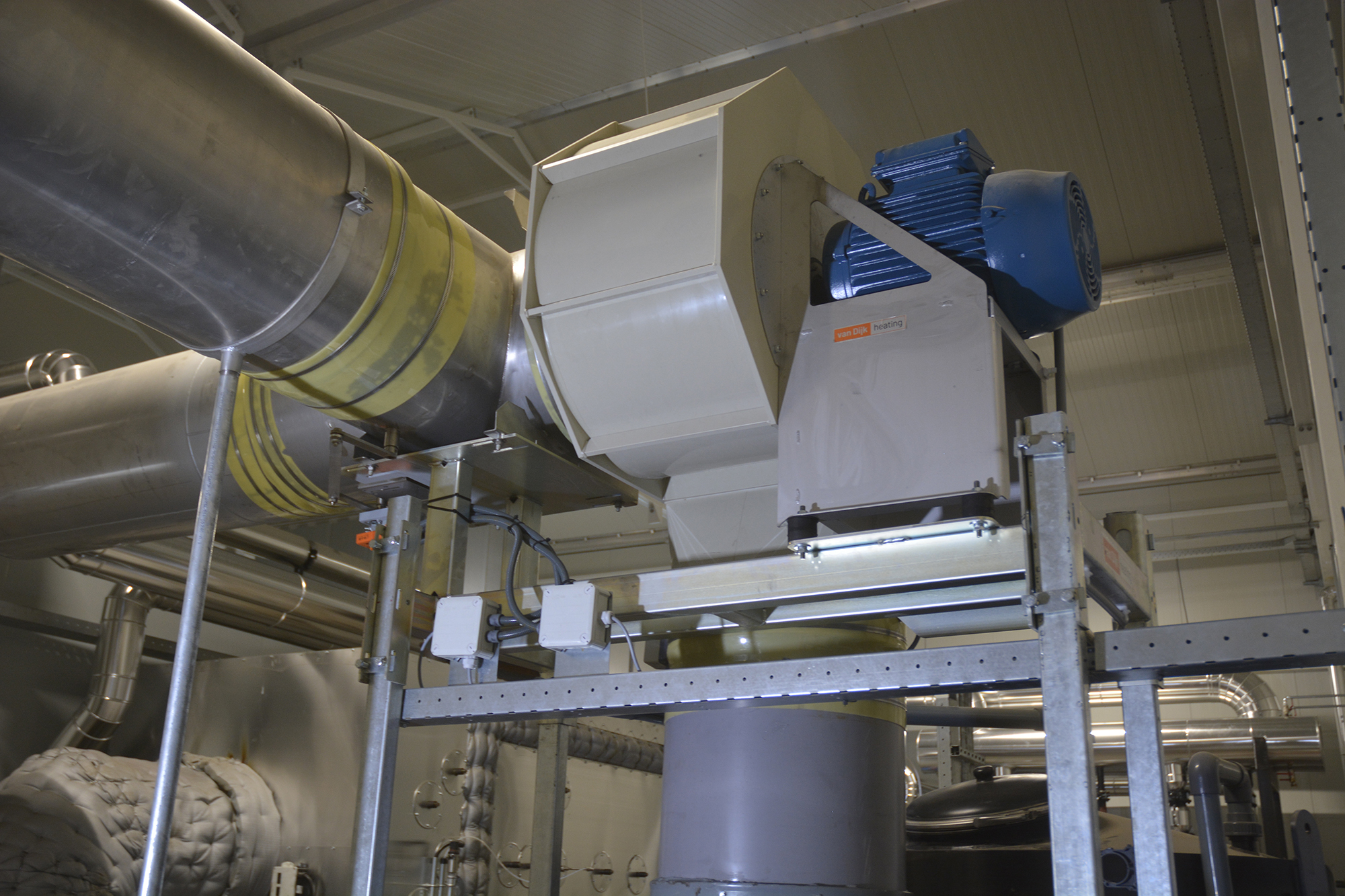 The new three-way CO2 unit at sweet pepper nursery Aat & Els van Onselen is ready for future business expansion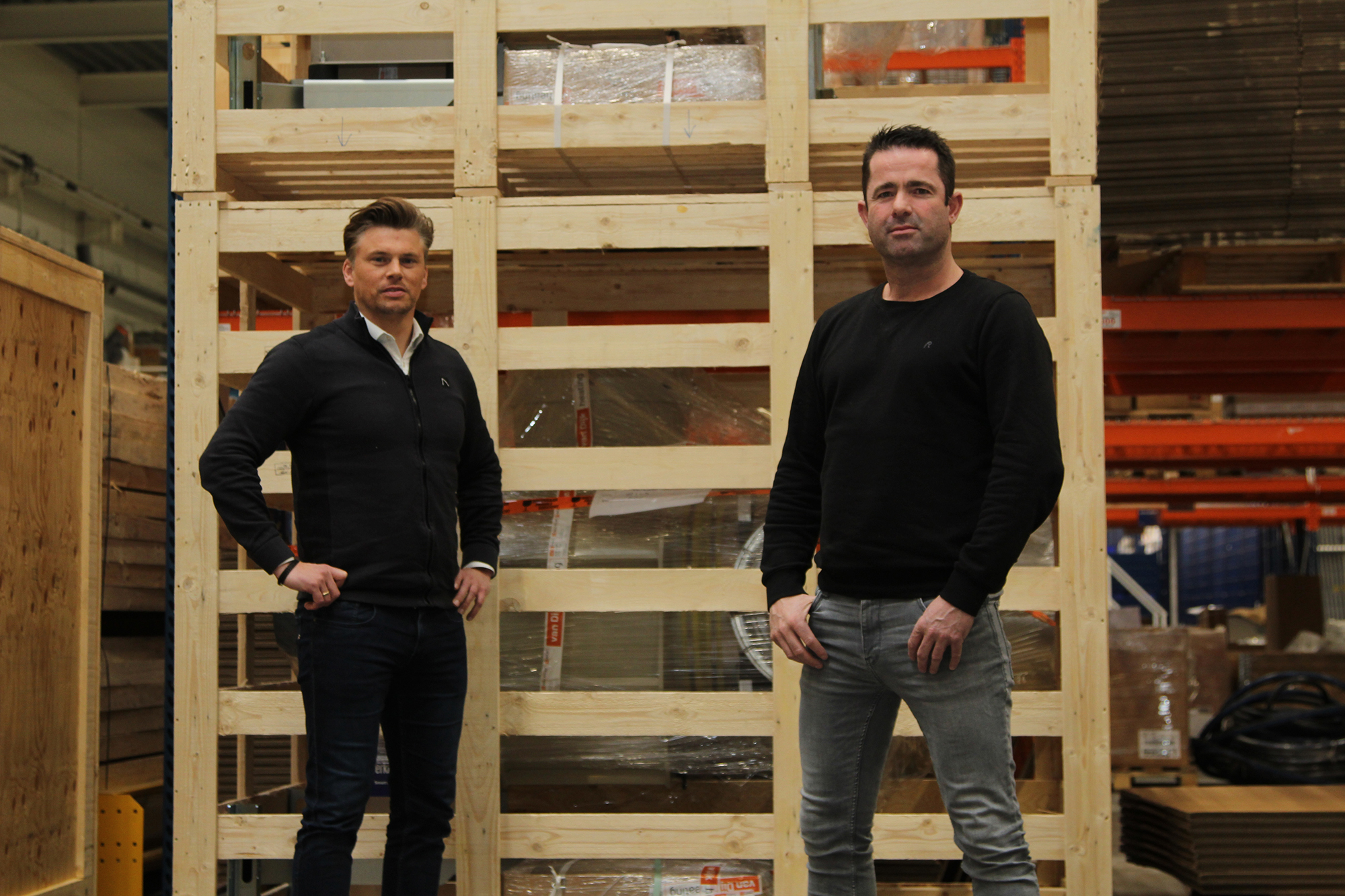 Henk Schonewille (left) and Michel Kauderer enjoy working with Van Dijk Heating. "You get to speak to the right person quickly, they are alert and they give you clear information."